What happens when Mr. Popper, a distant dad and serious businessman, inherits six live penguins in the mail? Inspired by the Newberry Award-winning children's book, Mr. Popper's Penguins is a classic tale about the importance of family, fatherhood and fun.
---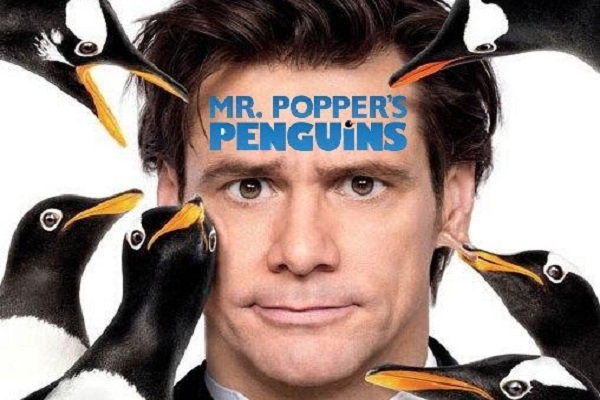 With real live emperor penguins sharing the spotlight with Jim Carrey as the uptight Mr. Popper, this movie just couldn't go wrong. After receiving the ill-fated bequest from his father, Mr. Popper is at first determined to get rid of the penguins. But when his children fall in love with them, Mr. Popper sees a chance to restore their distant relationship.
Instead of trying to send them away, now Mr. Popper is determined to keep the penguins. Since emperor penguins require freezing temperatures to thrive, Mr. Popper slowly converts his sleek Manhattan apartment into a snowy wonderland. Soon the penguins are skating around the apartment as if were a small piece of the South Pole and laying eggs on the living room floor.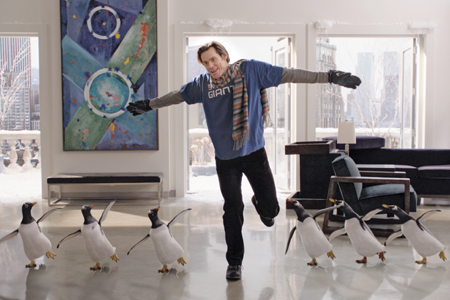 The kids are happy and it even looks like he might re-ignite a relationship with his beautiful ex-wife (Carla Gugino). But meanwhile, with all his
attention on the penguins and his family, Mr. Popper begins to lose focus at work and his performance suffers. Will he lose everything he worked for? Or will he find a way to regain his magic touch?
Although a little formulaic at times, the movie is packed with hilarious moments from beginning to end. Jim Carrey is king of slapstick humor and Mr. Popper's Penguins is full of the kind of comedy that keeps kids laughing. With a sweet message and a whole lot of priceless penguin fun, this movie is a perfect summertime family treat!